'Something terrible' happened at Royal hospital says son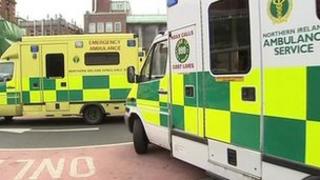 The son of the man who died on a hospital trolley after 22 hours said unless the systematic problems in the Royal are addressed his father's death will have been in vain.
On Thursday, it was revealed the man had died unnoticed in the accident and emergency department on Tuesday 6 March.
His son told the BBC "something terrible happened that night".
Belfast Health and Social Health Care trust has begun a full investigation.
Speaking to BBC NI health correspondent Marie Louise Connolly, the son, who wishes to remain anonymous, said his father "was a strong man in his twilight years".
"My father was talking to his partner hours before he passed away," he said.
"He advised her to go home as he was afraid she could get caught up in a hijack. That's how lucid he was."
He said his father had been brought to hospital with a chest infection, possibly pneumonia.
Diagnosed with Motor Neurone Disease 18 months ago, he had been able to walk with the help of a walking aid.
"It's the biggest heartache for me and my family to have to cope with, and we are getting our information from the media," said the son.
"As this story unfolds it becomes more and more tragic.
"I have no confidence that this investigation will uncover the truth."
'Horrendous circumstances'
The family said they had no problem with the staff, in fact they had nothing but "admiration".
"They are working in horrendous circumstances," said the son.
"I am speaking through the BBC to ensure this does not happen to another family."
The dead man was admitted to Belfast's Royal Victoria hospital on Monday, 5 March at 04:00 GMT.
He was waiting all day to be transferred to the City Hospital.
"When the ambulance crew arrived, it was clear he had been dead for some time," said our health correspondent.
She said it had been alleged that a suggestion was made by a member of staff that the patient's hospital notes should be changed to indicate that the patient had been checked more frequently.
The BBC understands that the man's hospital notes show that the man had been checked and his vital signs taken by a nurse at 03:00 GMT.
However, nothing else is written down until the ambulance crew found him at 05:00 GMT on Tuesday.
Once a patient is admitted, their vitals including pulse and blood pressure are supposed to be taken every 30 minutes.
The family are planning to meet with the trust's director, Dr Tony Stevens, next Tuesday morning.
"It is my understanding that he was not dead, he was in need of resuscitation and this happened," said Dr Stevens.
He said it was important not to prejudge the investigation.
He said he was certain there were lessons to be learned but it was important not to assume that all aspects of the care were bad.