Leaning Tower of Pisa going green for St Patrick's Day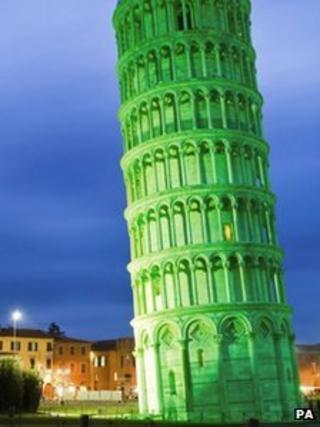 One of Italy's iconic sites will be turned a shade of green on Saturday to mark St Patrick's Day.
Greening famous attractions is part of a promotional campaign that Tourism Ireland has been involved in over the past three years.
But the leaning tower of Pisa and Niagara Falls are new additions to this year's campaign.
Niall Gibbons, chief executive of Tourism Ireland, said the aim is to capitalise on the unique opportunity that St Patrick's Day presents to boost visitor numbers on the island.
"We'll bring a smile to the faces of people around the globe and convey the message that Ireland offers the warmest of welcomes and plenty of fun, as well as spectacular scenery and cultural activities."
New York's Chrysler Building and the London Eye are among the famous attractions getting involved.
Mr Gibbons said: "We are absolutely delighted that so many well-known sites and attractions are eager to come on board with us and join in our celebration next weekend.
"People everywhere instantly identify St Patrick's Day with the island of Ireland and that heightened profile allows us to put our holiday experience in the spotlight around 17 March."
In 2011, approximately 1.51m overseas visitors came to Northern Ireland, an increase of 6% on the previous year.
"The saturation coverage about the island of Ireland this week - across the global airwaves, in newspapers and digital media - is an invaluable boost for our overall tourism marketing drive this year," Mr Gibbons said.