Fond farewell to Enniskillen for media priest Father Brian D'Arcy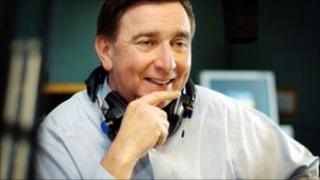 One of Ireland's best-known priests has said he will probably be leaving his Enniskillen home this summer.
Father Brian D'Arcy talked about the move in a tweeting session with theImpartial Reporteron Thursday.
"I'll be sad, but that's life," he tweeted.
The Irish Passionist priest is Rector of St Gabriel's Retreat in theGraan, but his term there is due to end soon and he will probably be sent elsewhere.
"My term as superior is up. I have done 12 years in total at the Graan which is longer than anyone should.
"My presumption would be that I won't be reappointed to the Graan and I have to prepare for that," he said.
The move would probably happen in the summer.
'Homecoming'
Father Brian comes from County Fermanagh and said his return to the Grann in 2001 felt like a real homecoming.
"It has been very much a home to me again. It will be very difficult to leave," he said.
"I'm nearer 70 than 60. I would like to continue with my media work too. But I have to accept that it has come to the end of my term and I'm not likely to be in Fermanagh - but if they asked me to stay I would."
Father D'Arcy is an author, columnist, broadcaster, journalist and chaplain to the entertainment industry.
He has a popular Sunday morning programme on Radio Ulster and contributes to BBC Radio 2'sChris Evansbreakfast show.
He has written a column for the Sunday World every week for 38 years.
Recently he spoke of his delight at former Bishop of Derry Dr Edward Daly's intervention on the issue of clerical celibacy.
Dr Daly said there needed to be a place in the modern Catholic church for a married priesthood. He also said many young men who considered joining the priesthood turned away because of the rule.
Father D'Arcy said the bishop was a man of "great experience".
"It is still not looked on as a good thing to say if you are in the Vatican set-up, they don't like you saying it," he said.
"It is one of the issues that everyone is talking about and it is delightful that Bishop Daly has made a statement about it now.
"During his time as a bishop he was very strongly in favour of celibacy and therefore the change of view is obviously after sincere reflection.
"No-one could say Edward Daly was anything but a good church man."