Derry regeneration company criticised for 'unapproved spending'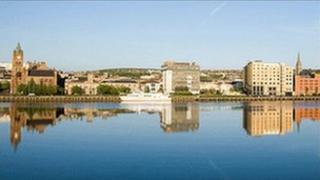 Londonderry's regeneration company Ilex has been criticised for spending some of its multi-million pound budget without approval.
The NI audit office higlighted a number of projects where no permission was given. Ilex said it had put measures in place to tighten controls.
The problem came to light in the company's figures from last year.
No permission was given for a multi-million pound project for the Office of the First and Deputy First Minister.
A further £400,000 was spent on a number of other projects without approval.
The Audit Office was concerned that the practice was repeated and was not a one-off mistake. As a result it said it had reservations about Ilex's accounts.
However, Ilex interim chairman Matt McNulty accepted that mistakes were made and said internal controls had been put in place following an in-depth review.
More than one million square feet of industrial space is lying vacant and available for rent in Londonderry.
Those are the findings of an audit complied by Derry's urban regeneration company Ilex.
The audit was obtained by BBC Radio Foyle.
The largest available unit is the former Fruit of the Loom factory in Campsie, which covers 19 acres, which closed in 2004, and has been lying empty for several years.
Also on the market for purchase or rent are several large and small units at Campsie, Springtown and Pennyburn industrial estates, as well as 45 office units.
The most prominent of these is the former Ulster Bank on Waterloo Place, which is on sale for £2m.
Some of the units were built with public money.
The financial journalist Paul Gosling told BBC Radio Foyle that this report showed the depth of Derry's economic difficulties.
He said that it provided clear evidence that government intervention to increase the supply of industrial units does not work on its own, and the government needed to increase economic demand.
Ilex, the urban regeneration company, is yet to respond to the leaking of the confidential report.