Panel gives MLAs 11% pay increase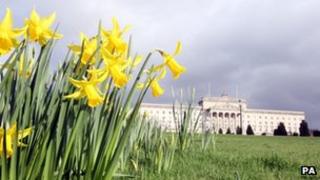 An independent panel has decided that assembly members pay should rise by almost £5,000 from April 2013.
The 11% increase to £48,000 will be financed by a cut in office costs.
An MLA's basic pay is currently £43,101. MLAs who are committee chairs get another £11,331, while deputy chairs get an extra £5,667.
Junior ministers get £19,609 on top of the basic while ministers get £37,801. The first and deputy first ministers are entitled to £114,535 each.
The Independent Financial Review Panel published its report on MLAs' salaries and expenses on Wednesday.
The pay issue has been so controversial the assembly agreed an independent panel should decide wages.
In recent years, assembly members' salaries have not risen in line with those paid in the Scottish parliament and Welsh assembly.
Its key decision was that basic pay should rise to £48,000.
To mitigate the cost to the public purse, the panel said that office cost expenses which are higher than Scotland, should be cut by 3% per year by 2014.
Sinn Fein MLA Barry McElduff said his party, throughout the consultation period, had maintained there should be no increase to the salary arrangements for MLAs.
"We believe it would be hypocritical for MLAs to be contemplating an increase in the current economic climate when everyone else is expected to cope with the effects of the recession," he said.
"It is our view that the current remuneration is adequate."
However, both Sinn Fein and the DUP questioned the reduction in the office costs allowances and the knock-on effect that would have on constituency services.
Mr McElduff said Sinn Fein would look at how they could "ensure that constituency services are maintained at the current level".
In a statement, the DUP said it fully supported an independent body setting salaries and allowances.
"MLAs should have no role in the setting of their terms and conditions," it said.
"However, the proposition that MLAs should have a salary increase funded at the expense of their constituency service is totally unacceptable.
"The DUP provides the largest number of advice centres and we want to maintain this vital frontline service. DUP members' priority will be to maintain their constituency service rather than benefiting themselves."
UUP leader Tom Elliott said the party was "acutely aware" of the economic hardships being faced by many families.
He said the party did not believe it was appropriate to increase assembly members' salaries "at the expense of the proposed cut in the office cost allowance".
"Public service is an important aspect of the work of an MLA and should not be reduced," he added.
SDLP leader Alasdair McDonnell said his party did not support an 11% pay increase.
"It would be plain wrong for MLAs to accept a pay increase at a time when people in our communities are suffering and dole queues are lengthening," he added.
The Alliance Party said the decision on the pay increase had been made by an independent panel "in order to remove any political influence on this matter".
"However the Alliance position is to remain on the current salaries that were determined in 2003 and have not increased since then," they said.
Cost of politics
MLAs will also pay an extra 1% a year in pension contributions.
Official figures currently suggest the average full time wage in Northern Ireland is £23,882.
The average full time wage in the public sector is £29,011 and the average full time wage in the best paid group, the professional occupations, is £36,629.
Panel chair, Pat McCartan, said the "assembly should be applauded for having the courage to place these decisions in the hands of an independent panel totally free of political influence".
As well as a cut in general office costs, the panel also ruled that MLAs who are also councillors will have 100% of their basic councillor allowance progressively deducted from their MLA salary by 1 April, 2013.
The eight MLAs who are also MPs will have their Assembly Office Costs Expenses progressively reduced from £37,928 per year to £8,655 per year by 1 April, 2014.
The report said that despite the pay rise, the package in its entirety would save £3.16m over the remaining three years of the assembly mandate.
"This represents a significant real cut in the cost of politics," it said.
Also, in future, salaries and expenses must be paid into accounts in their own names, and the employment of family members has been limited to not more than one by the end of the mandate.
The panel, comprised of Mr McCartan, Dr Henrietta Campbell and Alan McQuillan, began work in July 2011.
*Subject to salary protection for existing office holders - seeIFRP Reportpage 38.