Sainsbury's boss criticises 'tax' on large NI retailers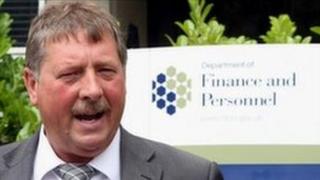 The chief executive of Sainsbury's has criticised the large stores levy introduced by Stormont to help subsidise rates relief for smaller businesses.
Justin King said it was an unfair tax on big employers, but welcomed the fact it was only a temporary measure.
The levy will come into effect from 1 April.
The so-called "Tesco tax" has been opposed by large retailers who said it could limit investment and cost jobs.
Mr King said: "We don't think any tax that's directed at a particular sector, particularly one like supermarkets that create so many jobs is a good thing, but what we were pleased to see is that it has a so-called sunset clause in it, so it won't last beyond its current duration."
Finance Minister Sammy Wilson said the tax would fund additional help for small businesses.
He said it would also allow business ratepayers to brighten up shop windows with non-commercial window displays, without incurring full occupied rates.
It also provides for a one year concession, during 2012/13, that will effectively allow 50% empty-property relief to continue for a year.
In December, it emerged that, on average, big retailers will pay an extra charge of £66,000 a year. That would raise £5m which would be used to fund a rate cut for small shops.
The levy will be at a rate of 15%, not 20% as originally planned.
It will affect 76 large shops.
Under the plans, a shop the size of the Belfast Ikea store could pay an extra £250,000 a year in rates.
Businesses with more than three branches will not qualify for the rate cut - which means bookmakers' chains and bank branches will be excluded from the lower rates benefit.