Unemployment down but number on benefits up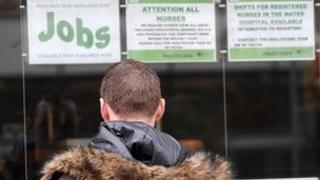 The unemployment rate in Northern Ireland has fallen to 6.5%, a fall of 0.4% from the previous quarter.
The Labour Force Survey of unemployment for November 2011 to January 2012 is also below the UK rate of 8.4%.
However, the number of people in NI claiming unemployment-related benefits increased to 61,400 in February, a rise of 0.3%.
The claimant count rate is 6.9%, well above the UK average of 5.0% and the second highest among the 12 UK regions.
Over the past year, the Northern Ireland claimant count has risen by 2,500, an increase of 4.2% but significantly lower than the UK increase of 11.2%.
The number of people economically inactive in NI has also increased by 3,000 during the last quarter, but this leaves the working-age inactivity rate unchanged at 27.2%.
Northern Ireland has the highest rate of economic inactivity in the UK.
The unemployment rate for 18-24 year-olds remains high, at 16%.
The Republic of Ireland's unemployment rate remains high, at 14.5%.
Enterprise Minister Arlene Foster gave the figures a cautious welcome.
"The decrease in the unemployment rate is welcome and the latest labour market figures for Northern Ireland continue to demonstrate that our current unemployment rate compares favourably to the equivalent rates for the UK, European Union and Republic of Ireland," she said.
"However, more recent figures for February 2012 show an increase of 200 in the number of people claiming unemployment benefits. This increase in the claimant count highlights the continued pressures on the labour market in Northern Ireland in 2012.
"On a more positive note, manufacturing jobs have now grown for the third consecutive quarter demonstrating the resilience of the sector.
"This continued increase in manufacturing jobs has occurred against a backdrop of challenging market conditions. It highlights the advantages to be gained by adopting a competitive export-oriented focus."