Armagh to get lord mayor status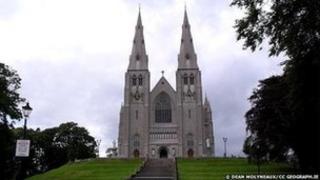 The city of Armagh has been awarded Lord Mayor status as part of the Queen's Diamond Jubilee celebrations.
The honour has been granted to the city by the Queen, on advice from the Deputy Prime Minister and Lord President of the Privy Council, Nick Clegg.
Armagh will now be only the second place in Northern Ireland, after Belfast, to have a lord mayor.
But the award is purely honorary and does not give any additional powers.
As part of the Queen's Diamond Jubilee celebrations, Chelmsford, Perth and St Asaph have been awarded the right to call themselves a city. No Northern Ireland towns have been upgraded to cities.
Important Royal anniversaries are often marked by competitions for a lord mayoralty and 12 cities entered this time round. Armagh was joined in the short list by Gloucester, Peterborough, and Wakefield.
At the Queen's Golden Jubilee in 2002 Newry and Lisburn were granted city status.
The current Mayor of Armagh, Cllr Freda Donnelly praised the bid put together by the council.
"We feel it will consolidate this small but significant place and it will also give the residents a sense of civic pride and community spirit," she said.
"I would like to put on record thanks to all those who were involved in the bid. We really appreciate their hard work and dedication and I recognise that the council works in partnership with the local community for everybody in the area."
Secretary of State Owen Paterson also congratulated Armagh on gaining lord mayoralty status.
"I congratulate Armagh and its new lord mayor for this prestigious award to mark the Diamond Jubilee," he said.
"Armagh's venerable past from the time of Saint Patrick was doubtless a key factor in helping it beat the other competitors in the civic honours competition."