Family escape injury after car crashes into front of east Belfast house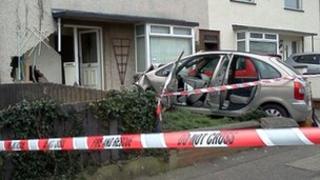 A family have escaped injury after a car crashed into their terraced house in east Belfast.
The front of the house on the Whincroft Road, in the Braniel Estate, was badly damaged by the impact.
The driver of the car was taken to hospital with minor injuries. It is thought his car went out of control.
A woman who lives in the area said it could have been a lot worse.
Nicola Moore said there was relief in the area.
"My oldest wee boy, he is five, he would play out on the street," she said.
"It could have been a lot worse. Children play on their bikes in the street. Anybody could have been walking across the road."