Boris blunders with St Patrick's dinner gaffe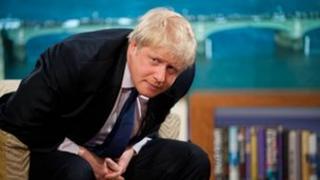 Mayor of London Boris Johnston has apologised for describing a St Patrick's Day dinner in the city as "lefty crap".
Mr Johnston said he was "profoundly sorry" in the Irish Independent.
In an article in the New Statesman, published last month, he incorrectly linked the event to Sinn Fein.
Irish organisers of the dinner pointed out that the event was self-financing and embraced the entire Irish community.
The annual dinner has been attended by people such as Bob Geldof, chef Richard Corrigan and the Irish Ambassador.
Mr Johnson said: "I am profoundly sorry if I have offended any Irish person.
"I hope that people will see I was making a point about cost cutting."
He told the New Statesman what made him angry was "lefty crap" like "spending £20,000 on a dinner at the Dorchester for Sinn Fein".
As he runs for re-election as London Mayor, Mr Johnston has repeatedly attacked his rival Ken Livingstone on cost cutting measures.
"My remarks about the dinner were about cutting costs," said Mr Johnson.
"Although I note that the guests of honour at the 2008 St Patrick's Day dinner were Martin McGuinness and Pat Doherty, these were not dinners for Sinn Fein and, of course, I make absolutely no assumptions about the political allegiances of those who attended the dinner."
"I regret any unintended offence that I may have given."
The colourful Tory Mayor also spoke in Latin to underline his regret over the comments.
"Mayoral culpa, mayoral maxima culpa," he said.