Inquest for IRA men at centre of 'shoot to kill' allegations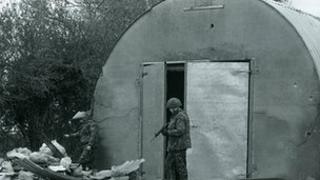 The jury has been sworn in for one of Northern Ireland's oldest outstanding inquests.
It will examine the deaths of two IRA men who were shot dead by SAS soldiers in 1990.
Martin McCaughey, 23, and 37-year-old Dessie Grew were killed at isolated farm buildings near Loughgall in County Armagh.
Their deaths prompted allegations that they were victims of a British "shoot-to-kill" policy.
The County Armagh farm was believed to have been under surveillance. Three AK47 assault rifles were found nearby afterwards.
Legal papers in a judicial review application claim four soldiers fired 72 rounds at the two men, with autopsy reports showing Grew sustained 48 wounds while McCaughey was hit by 10 bullets.
Over the next few weeks the inquest will hear from more than 30 witnesses, including member of the security forces.
In May 2011, the Supreme Court extended the scope of the inquest, ruling that it must examine the "planning and control of the operation" as well as the causes of death.
Lawyers for the two IRA men's families have claimed the failure to hold a prompt inquest breached their right to life under European legislation.
Relatives of the two men sought a ruling by the Supreme Court - the highest court in England and Northern Ireland - after disagreements about the scope of the inquest.
It means, that the coroner must comply with Article 2 of the European Convention on Human Rights, even though the Human Rights Act 1998 was not in force at the time of the men's deaths.
The European Court of Human Rights has ruled that states have a duty to investigate suspicious deaths, and determine whether they comply with human rights legislation.