RAAD shooting threats against men in Londonderry 'removed'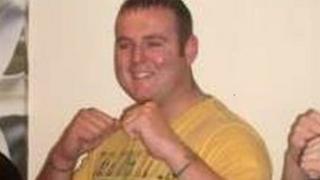 The threat against two young men in Londonderry from the vigilante group, Republican Action Against Drugs, has been lifted, according to a community activist in the city.
On Wednesday, RAAD shot two of four young men to whom it had issued threats. It also said it had murdered a man in Buncrana in February.
However, on Saturday it emerged that after negotiations involving community activists with RAAD the threat against two has been removed.
Community activist Hugh Brady said: "I was involved in the negotiations surrounding the situation involving these two young men.
"I became involved after being approached by the families of one of them.
"Following our intervention I welcome the fact that RAAD have made clear that all threats and implied threats against the two young men have been removed and they are free to go about their daily lives."
Andrew Allen, originally from Derry, was killed in his Buncrana home on 9 February.
The father of two was the first man to be murdered by RAAD.
The two men shot on Wednesday at Gartan Square in the Bogside did not sustain life-threatening injuries.
On Friday, a representative from a Christian group said they would be prepared to act as a mediator with RAAD.
Maranatha supports people who have been forced to leave Northern Ireland.