Omagh bombing civil retrial is confirmed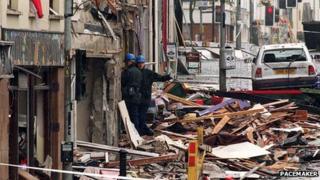 The civil retrial of two men being sued over the 1998 Omagh bombing is set for October, a judge confirmed on Friday.
Mr Justice Gillen said he was setting aside up to six weeks to hear the case against Colm Murphy and Seamus Daly.
He also set out his intention to deliver a verdict within a fortnight of the new hearing being completed.
Mr Murphy and Mr Daly are defending an action by relatives of some of the 29 people, including a woman pregnant with twins, killed in the Real IRA attack.
They were ordered to face a retrial after their appeals against being held liable for the bombing were upheld.
Two other men found responsible in the initial landmark ruling, convicted Real IRA leader Michael McKevitt and fellow dissident republican Liam Campbell, failed to have the findings against them overturned.
They are attempting to take their case to the Supreme Court in London.
Fixing the retrial date for 3 October, Mr Justice Gillen directed lawyers on both sides to convene a meeting to agree what issues would be contested.
'Efficient process'
"A great deal of material should be possible to agree without any posturing and without any seizing of issues that are totally hopeless by either side," he said.
"The need for an economic and efficient process must be in mind in a case of this nature."
Although he allocated six weeks for the hearing, the judge said he expected it to be completed in a shorter time.
"We are getting on for trial and judgment will be given within two weeks of the trial," he added.
No-one has been successfully criminally convicted of the bombing which devastated the County Tyrone market town.
In June 2009 McKevitt, a convicted Real IRA leader serving a 20-year jail sentence; Campbell, a farmer from County Louth currently fighting extradition to Lithuania over an alleged arms smuggling plot; Mr Murphy, a Dundalk-based builder and publican; and Mr Daly, from Culaville, County Monaghan, were all found liable for the bombing in a civil ruling.
Mr Justice Morgan, now Northern Ireland's lord chief justice, ordered them to pay £1.6m in compensation.
But in July last year, three judges in the Court of Appeal upheld the appeals of Mr Murphy and Mr Daly.
Responsibility for a fresh decision on the alleged case against them now rests with Mr Justice Gillen.