Cricket star Uday Joshi is jailed for sex abuse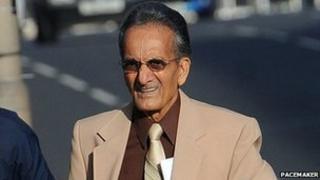 A former Indian cricket star who was convicted of sexually molesting a boy more than 30 years ago has been jailed for six years.
Uday Joshi, 68, was also ordered to sign the police sex offenders register for life.
He was convicted of sexually abusing his victim who was just 13-years-old when the offences occurred.
Joshi played for Sussex in 1979 but came to NI for the summer. He is appealing the conviction.
Joshi was also barred from working with children in the future.
Judge Gemma Loughran told Joshi, who still maintains his innocence and has lodged appeal papers: "one of my duties is to signal societys' abhorrence of sexual offences against children and make clear that those who exploit children for their own sexual gratification will spend significant periods in custody."
At the end of his trial in February, Joshi, originally from the Rajkot area of India but who is now an American citizen with an address at Cole Mill Drive, Charlotte, North Carolina, was unanimously convicted of three offences committed in August 1979.
During the five-day trial the jury heard how Joshi impressed the teenage fan with stories of how he played with and against the likes of former England captains Geoffrey Boycott and Tony Greig before subjecting him to bouts of sexual abuse.
At the time Joshi was a right-arm off-spinner for Sussex, but came to Northern Ireland for the summer to play for a local club and to conduct training sessions with aspiring cricketers.
Giving evidence to the court, Joshi's victim, who is now 45-years-old, described how at first nothing untoward happened and that he even attended a test match between England and India at Edgbaston along with Joshi who got both him and his father into the team hotel.
'Humiliated and degraded'
The jury heard how the first incident happened the night before Joshi was due to hold a training session. The then teenager ended up staying overnight in the same house as Joshi.
He told the jury how he had "no concern at all" when Joshi asked him if he wanted to sleep in the same bed as he thought he would hear more stories of his cricket heroes but that having fallen asleep, he woke up to find his underpants being pulled down and Joshi touching him inappropriately.
"I told him to stop," said the 45-year-old and Joshi did but within a short time, he sexually assaulted the boy, leaving him in severe pain, feeling "humiliated and degraded" before he then forced the schoolboy to perform a sex act on him.
The following morning before the training session, Joshi told him it was their "secret".
Around two weeks later, he said he was again staying in the house and had gone to bed but that Joshi was standing at his bedroom door in vest and underpants, "beckoning" him into the bedroom.
He told the jury he only went with Joshi to avoid a scene but that once in the bedroom, Joshi sexually assaulted him again.
On another occasion when the boy stayed overnight at the house, he told the jury that he "had a strategy" and when Joshi again came to his bedroom door in vest and pants, the boy motioned to lift a shoe "to fight him off".
Married father-of-two Joshi gave evidence to the court on his own behalf, claiming that nothing untoward or sexual had ever happened between him and the victim.
The jury also heard numerous references about Joshi, written by a former Indian test player and a school principal where Joshi also coached, speaking of his "impeccable moral character".
On Friday, Judge Loughran said she accepted the incidents had been "entirely out of character" but that despite his "unblemished character" in the years between the incidents and now, he had left his victim suffering from a "chronic adjustment disorder, with anxiety" and with other difficulties not yet resolved.