Smithwick Tribunal: Some witnesses refused to give evidence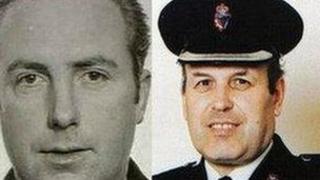 The chairman of a Dublin tribunal investigating allegations of Garda/IRA collusion has expressed his disappointment at a lack of cooperation from some witnesses.
Judge Peter Smithwick presented his interim report to the Irish government on Friday.
In it, he said "a small number of potentially very important witnesses" have refused to give evidence.
The tribunal is investigating the murders of two RUC officers in 1989.
Chief Supt Harry Breen and Supt Bob Buchanan were shot dead by the IRA in south Armagh while returning from a meeting with garda in Dundalk.
Judge Smithwick said some witnesses from outside the Republic of Ireland had refused to give evidence, despite being able to avail of a video-link facility in Belfast.
He said he was "particularly disappointed" that the journalist Toby Harnden had refused to come before the tribunal, given the role his book Bandit Country played in reigniting suggestions of collusion.
He also expressed his regret that "British authorities in Northern Ireland intelligence" had "highly relevant and potentially significant" information relating to collusion, but could not agree with the tribunal a method of putting that information into evidence.
The tribunal has heard from 172 witnesses, so far - more than originally envisaged - and new lines of inquiry are still emerging.
In its final phase, the tribunal will hear from a small number of "very significant witnesses", including the three former garda sergeants whose names have been linked with the provisional IRA; and it is hoped a former British Army agent handler, Ian Hurst, will also be able to attend.
John McBurney, solicitor for the Breen family, said: "I find it quite shocking and astonishing that highly relevant and potentially signficant intelligence material, outlined orally to Judge Smithwick and several of his legal term by the British Authorities, is not being produced in a manner by which it can be put in evidence.
"It is an entirely unsatisfactory state of affairs and I call on the British Authorities to take immediate steps to resolve the situation and produce in evidence this important material."