Collision ship captain pleads guilty to drink charge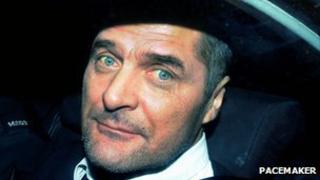 The captain of a cargo ship which collided with a passenger ferry in Belfast Lough on Wednesday was over the alcohol limit while being in charge of his ship, a court has heard.
Miroslaw Pozniak, 55, from Poland appeared in court in Bangor on Friday.
He was charged with excess alcohol by the master of a ship.
Through his lawyer, Mr Pozniak pleaded guilty to the charge and was remanded in custody.
Mr Pozniak appeared in court wearing his captain's uniform and confirmed through an interpreter that he understood the offences.
The court heard that his captain's record was clear and that he had been fully cooperative with the police during questioning.
His ship has been impounded and its cargo will be taken off.
An application for bail was made but the district judge said that could be heard in court again on Monday when the prosecution will decide if this case should proceed in a magistrate's court or the crown court.
Mr Pozniak, who has no links to Northern Ireland, will remain in custody.
The Stena Feronia ferry which had sailed from Birkenhead with almost 100 passengers and crew on board, and the cargo ship Union Moon collided in Belfast Lough between Carrickfergus and Helen's Bay on Wednesday.
Both vessels were substantially damaged in the collision, but no-one was injured.
The Maritime and Coastguard Agency, the Marine Accident Investigation Branch and the police are all investigating the incident.