Smithwick Tribunal so far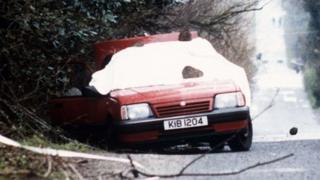 Nobody thought getting to the truth of events that happened over two decades ago would be easy.
The Smithwick Tribunal is proving just how tricky it can be with claim and counter-claim, contradiction and confusion highlighting the difficulty in getting to the heart of what this tribunal of inquiry was set up to find out:Did an Irish police officer or civilian working for the state collude with the IRA in the murders of Chief Superintendent Harry Breen and Superintendent Bob Buchanan in 1989?
The men were the two most senior RUC officers killed in the Troubles. They were targeted on their way back from a meeting at Dundalk Garda Station in March 1989.
The meeting was about an operation to target alleged smuggling by senior Republican Thomas 'Slab' Murphy.
Rumours abounded in the hours and days following the ambush that a garda in Dundalk had told the IRA killers of the officer's visit to the station.
Those rumours were immediately dismissed by the Garda Commissioner and the RUC's Chief Constable at the time.
But the rumours refused to go away and in 2003 Judge Peter Cory recommended a tribunal be set up to look into this and five other controversial cases.
Public hearings began in June 2011, six years after the tribunal was established.
Since then, the tribunal has heard from 172 witnesses and with only a dozen more scheduled, the public hearing phase is nearing the end.
Over the eight months of evidence, the tribunal has heard from a convicted IRA bomb-maker, former Garda Commissioners, high-level former RUC members, a former Justice Minister, a DUP MP and an IRA spy, so what have we learned so far?
Much that cannot be reprised here, much to illuminate the murky mire that has been called "the dirty war" and much to confuse further.
In the end the credibility of the witnesses before him will be a deciding factor for Chairman Peter Smithwick, who must adjudicate on collusion in its widest sense, which covers not just direct actions but inaction.
Some of the key points highlighted by the tribunal so far include:
RUC CONCERNS
Evidence given by a former Garda Chief Superintendent in Monaghan Tom Curran revealed that Supt Buchanan came to him two years before he was murdered, in 1987, and said the RUC were concerned that a detective in Dundalk Owen Corrigan was passing information to the provisional IRA (PIRA).
Supt Curran said he personally reported this to the then Assistant Commissioner at Garda HQ, but the commissioner was not interested in what he was saying, and barely lifted his eyes from the file he was reading.
Several months before the ambush he heard of an IRA threat to Supt Buchanan's life. He wrote a report to Garda HQ, but never heard anything further.
No records of the verbal or written warnings exist.
Supt Curran's credibility is not in question - yet many high level RUC and Garda witnesses have said it would have been a most irregular way to deal with such a matter.
If the RUC had concerns, they should have been raised through official channels, at the highest level.
And what of those RUC concerns? Only one piece of intelligence was ever found in RUC files - an SB50, dated 1985, which claimed Owen Corrigan was passing information to the PIRA.
Yet many high level RUC officers have testified that they never had any concerns or heard anything about a garda mole. However, others spoke of rumours and said they were warned not to trust a garda in Dundalk, and named him as Owen Corrigan.
OWEN CORRIGAN
Former Garda Det Sgt Owen Corrigan has come under intense scrutiny during the course of the tribunal.
He worked as a garda in Dundalk, received eight commendations and had one of the best records in the force for dealing with subversives.
The tribunal heard a former RUC Det Insp say he trusted Mr Corrigan with his life.
But the tribunal also heard that Chief Supt Harry Breen expressed concerns about him to his staff officer on the morning he was killed.
While DUP MP Jeffrey Donaldson named him under parliamentary privilege in 2000 as a rogue garda, Mr Corrigan has always vehemently denied these claims.
Giving evidence to the tribunal he said they had caused him 'great distress'.
BRITISH AGENT
That distress was no doubt added to by the appearance at the tribunal of former British agent Kevin Fulton, also known as Newry man Peter Keeley, who worked undercover in the IRA.
Giving evidence before Christmas, he said it was an open secret that a garda in Dundalk was helping the provisionals, and the garda had been involved in the murders of the RUC men.
He said that he believed that garda was Owen Corrigan.
He also testified that he was present when Mr Corrigan told convicted IRA bomb-maker Patrick 'Mooch' Blair that a County Louth farmer had agreed to turn informant for the gardai. That farmer, Tom Oliver, was later shot dead by the IRA.
Patrick 'Mooch' Blair gave evidence in person and disputed all of Kevin Fulton's claims.
Mr Corrigan too denies them, while Mr Fulton himself has been described as an "intelligence nuisance".
But Mr Fulton's evidence prompted Judge Cory to say the case warranted further investigation. It is now up to Peter Smithwick to weigh up his testimony.
LEO COLTON & FINBARR HICKEY
It is not just Owen Corrigan whose name has been put into the public domain as having allegedly inappropriate links with PIRA.
Retired Detective Sergeant Leo Colton and former Sergeant Finbarr Hickey both worked in Dundalk garda station at the time of the RUC officers' murders.
Finbarr Hickey served a jail sentence for signing passport applications which ended up in the hands of PIRA.
Mr Hickey claims he was asked to do so by Leo Colton, who denies this. Both men also deny any suggestion of collusion.
GARDA INVESTIGATIONS
So what of suggestions and rumours aired at the tribunal linking then-serving gardai to subversives?
Despite rumours of a garda mole surfacing in 1989 directly after the murders, it was eleven years later when speculation gathered pace following the publication of journalist Toby Harnden's book Bandit Country: South Armagh and the IRA, in which he alleged collusion between gardaí and the IRA in the deaths of the two officers.
Mr Harnden has declined to give evidence.
An Irish Times article by Kevin Myers in March 2000 made similar claims - an article which in his evidence to the tribunal Mr Myers admitted was flawed.
The media articles, added to speculation in the Dail and Westminster, prompted the then Garda Commissioner Pat Byrne to appoint a senior Garda officer to investigate.
That report, like an internal Garda report 12 years earlier, concluded there was no evidence of collusion.
However, the report did not interview politicians who said they had relevant information - in particular Mr Donaldson, who stated he had made his own extensive inquiries into the matter.
Mr Byrne said the investigator, who is deceased, had not needed to speak to the politicians, because he already knew the information they had.
But the accusations persisted at the tribunal that the report was flawed because it failed to fully explore garda intelligence reports about collusion.
TAPE OR NO TAPE
A further quandary the Chairman faces is who to believe on the issue of a telephone tap on the home of a senior IRA man.
A former garda inspector at Dundalk said he heard an intercept of a phone call warning the man of an imminent garda raid in search of forged passports. The man was told to 'get rid of the package'.
The information could only have come from within the force - strong evidence of collusion, if the tape or a transcript of it could be found.
Both the former Commissioner and another garda, who was purported to have also heard the recording, said the tape never existed, and if it had, it would have prompted an immediate major investigation.
END GAME
So as the tribunal enters its final stages, there are many things for all sides to ponder. There has also been a lot of evidence given to the tribunal which may not come into the public domain.
Former members of PIRA leadership, including one who was involved directly in the ambush, have given statements to the tribunal, but it is uncertain whether any of them will give direct evidence.
Martin Ingram, also known as Ian Hurst, who worked inside the British Army's secretive Force Research Unit as an agent handler, has also made a statement to assist the tribunal's investigations, but on the insistence of the MoD, that is likely to remain private.
The man who has always denied he is the British agent known as Stakeknife, Freddie Scappaticci, also has legal representation at the tribunal, and indications before Christmas suggested he too may appear, but at the moment, that also remains uncertain.
The dying days of the Smithwick Tribunal could prove to be the most explosive yet.