'I was undermined' says Tom Elliott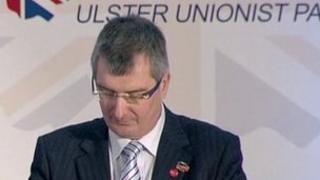 Ulster Unionist leader Tom Elliott has accused some members of his party of feeding "lies" to the press.
Mr Elliott announced on Thursday that he was standing down as leader. He told theImpartial Reporterthat the party atmosphere had been "uneasy".
"There are people who are constantly trying to make life difficult for me by briefing journalists - this is a serious issue," he said.
The UUP assembly group met at Stormont on Friday following the decision.
Mr Elliott explained his reasons for not seeking re-election at the party's annual general meeting in three weeks time.
"Danny Kennedy phoned me because someone within the party told him I was planning a reshuffle and there was a possibility he would lose his ministerial position," he said.
Mr Elliott told the newspaper that some people were "determined to cause unease".
He also accused some journalists of being against him and the party.
"They never have anything positive to say; they just want to pull me down. It doesn't matter if our party has something positive to announce.
"There are journalists who wouldn't want to know that - they just want to focus on the negatives.
"Clearly there were people in the party briefing the media about meetings with inaccurate material which I would go as far as calling telling lies. You don't take decisions like this lightly," he added.
The Fermanagh and South Tyrone MLA said he had decided to quit after a difficult week "behind the scenes".
He told the paper that a "build-up" of problems and issues within the party had cemented his decision.
"The briefing that has been going on over the last 10 days behind my back has made it very difficult to continue," he said.
Speaking to Evening Extra, Mr Elliott said he was "hurt and disappointed".
"I am an honest and honorable politican and if that has caused me to resign or leave my position as leader, then I'm willing to accept that," he added.
A statement by the UUP assembly group said tributes were paid to Mr Elliott at Friday's meeting.
"Warm tributes were paid to Tom's personal and leadership qualities and appreciation was expressed regarding the issues he brought forward on behalf of the party," it said.
"Tom has been a tireless worker on behalf of the party, and the group wanted to place on record its appreciation for the huge contribution he has made as leader.
"He will obviously remain a key player in Ulster Unionism as we move forward."
The statement added that party officers were now in charge of the process to select the next leader.