UUP leader Tom Elliott quitting as party leader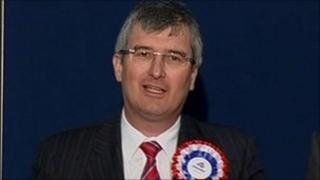 The race is on for a new Ulster Unionist leader after Tom Elliott dramatically quit the post.
His decision came on Thursday night, just days ahead of a UUP deadline to formally re-nominate him for a further term.
He said he had support across the party but not everyone was willing to give him a chance.
Mr Elliott succeeded Sir Reg Empey as UUP leader in September 2010, defeating Basil McCrea in the contest.
Nominations for a new leader close next Friday.
In a statement on Thursday evening, Mr Elliott said he was aware that some people had not given him a "fair opportunity" to develop and progress many party initiatives.
"Some of this obstruction and hostility began immediately following my election as leader and has been relentless since then," he said.
"However, I accept that is part and parcel of politics.
"The party AGM is scheduled to take place on Saturday 31 March, I have informed the party chairman that I will not be putting my name forward for consideration for the position of leader at that meeting."
He thanked party members who had given him "tremendous support" during his time as leader and encouraged them to show the same backing for the new party leader.
Complaints
Mr Elliott said he would continue as an MLA for Fermanagh & South Tyrone.
The party's assembly team had a bad-tempered meeting on Monday in which there were bitter complaints about the state of the party, but sources said no one pointed the finger at the leader.
This followed a report in local newspaper, the Portadown Times, that the party's only minister Danny Kennedy was coming under pressure to stand as leader.
Mr Kennedy told the BBC that he had already informed Mr Elliott he had his support as leader.
On Tuesday, a Queen's University survey suggested the party was perceived as the least influential in the Northern Ireland Executive.
Mr Kennedy, who is an MLA for Newry and Armagh as well as minister for regional development, paid tribute to Mr Elliott.
"Tom Elliott has given loyal and dedicated service to the Ulster Unionist Party as he has attempted to restore the political fortunes of our party," he said.
"I want to pay a warm and genuine tribute to his many fine qualities of honesty, integrity and leadership which he has displayed throughout his tenure as leader.
"I will always be grateful to him on a personal basis for the opportunity he has afforded me to represent our party in the Northern Ireland executive."
Northern Ireland's First Minister and DUP leader, Peter Robinson, said he had a "good relationship" with Mr Elliott during his time as leader of the Ulster Unionist Party.
"In particular, I pay tribute to his efforts to build greater unionist co-operation. I wish him well as he continues as an MLA in Fermanagh and South Tyrone," he said.