Armagh Bramley growers celebrate special EU status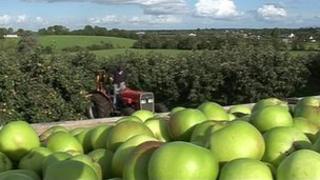 Armagh Bramley growers are celebrating the granting of a special EU status which will see their apples recognised alongside other elite produce such as Parma ham and champagne.
The European Commission has confirmed Armagh Bramley apples have been awarded protected geographical indication status which promotes and protects names of high quality food and drinks.
The move has been welcomed by John Beggs, who grows Bramley apples on his farm near Loughgall, and is chairman of the Northern Ireland Fruit Growers Association.
"We have waited a long time for this, but at last we have recognition that the Armagh Bramley has a special taste and composition," he said.
The Armagh Bramley now joins Comber potatoes and Lough Neagh eels which already enjoy protected geographical indication status.
The orchards of County Armagh produce more than 40,000 tonnes of Bramley apples annually.
An increasing quantity of the crop goes for cider production but the market for cooking apples remains an important outlet for the 140 growers who produce the bulk of the local bramley crop.
"The award recognises the sharper, cleaner and slightly tarter taste of the Armagh Bramley compared with apples from orchards in England," said Mr Beggs.
The Bramley orchards stretch from Armagh city to Portadown with the greatest concentration on the gentle slopes around Loughgall.
Weather is crucial in apple production and the orchard county is particularly suited because it gets fewer late frosts than most other areas.
Unique taste
The frost factor is crucial but the damp, mild climate of Armagh is also particularly suited to the production of cooking apples.
The Fruit Growers Association says Armagh Bramley apples grow more slowly than fruit in English orchards and that this results in Bramleys with a unique taste and texture.
Agriculture Minister Michelle O'Neill welcomed the news that the Armagh Bramley apple had become the third local product to be granted protected food name status under EU law.
"The Armagh Bramley apple is widely recognised by professional chefs and home cooks alike as the best apple for cooking," she said.
"It is encouraging to have our products recognised across the EU.
"Protected Geographical Indication (PGI) registration is good news for the local economy and will help local growers to market Armagh Bramley apples domestically and further afield and will also provide protection against imitation."
PGI legislation came into force in 1993 and is a system for the protection of food names on a geographical or traditional recipe basis.
The scheme highlights regional and traditional foods whose authenticity and origin can be guaranteed.
Under this system a named food or drink registered at a European level will be given legal protection against imitation throughout the EU.
Other protected food and drink products across Europe include champagne, Parma ham and feta cheese.