Electric car charging stations appear in NI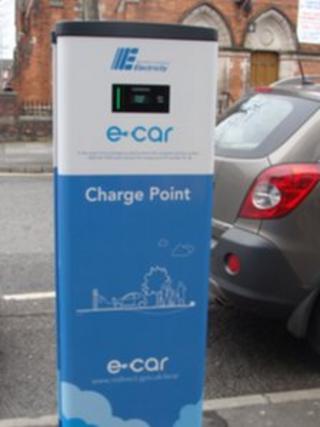 Strange additions to the usual street furniture have been popping up across Northern Ireland.
The Department for Regional Development, along with government and business partners, have installed over 40 charging points for electric vehicles.
Over 100 ecar stations are planned to be in place by March 2013.
The project is aimed at preparing NI for a future where cars run on batteries instead of fossil fuels.
So far, the charging points have been set up in Belfast, Derry, Armagh, Dungannon, Newry and Fermanagh.
It will take between one and six hours to fully charge a car depending on the type and battery size.
There will also be a number of rapid charge points at locations near major motorways which will charge a car to 80 per cent of its full capacity in about 25 minutes.
Pedestrians passing by one of the stations on Belfast's Dublin Road shared their opinions on the scheme.
Grant Price from Auckland, New Zealand, said that although he thought it was "a great idea" it might not be of much immediate benefit.
"I've got a little bit of a feeling that it's maybe the government trying a bit hard when there's not many electric cars around," he said.
"It would maybe be a bit more successful if there were the cars around to use it. I think it's been here about a week, but I haven't seen anyone plugged into it."
Mojav Abdulah from Sudan also had praise for the scheme.
"I think it's better for the environment, for safety and everything," he said.
Mojav's friend Hitham pointed out that the spaces around the charging point were occupied by conventional cars.
"Maybe it should be reserved for electric cars only, there's no room there at the moment," he said.
First step
Ross Brown, the chair of the east Belfast Green Party welcomed the roll-out.
"There's great potential to save ourselves a lot of money in the long run, given that fuel prices are increasing quite dramatically as our supply of fossil fuels is ultimately running out," he said.
"But, it's only one part of the jigsaw and we would like to see more investment in public transport and look at ways in which we can actually reduce energy consumption and increase mobility."
Responding to a question about how many electric cars were already on the road in Northern Ireland, Mr Brown said the installation of a charging infrastructure was a necessary first step.
"Obviously it is an emerging technology and you can't really have electric cars without electric car charging points, you can't put the cart before the horse."
According to the Department for Regional Development an electric car in Northern Ireland currently costs between £28,000 and £30,000 but to encourage people to use electric cars, the government is offering grants of up to £5,000 towards their purchase. Grants are also available to individuals and businesses to install their own charging stations.
And Mr Brown said the prices could be expected to drop in the future.
"It is still relatively expensive, but like everything, computers and everything else it does come down in price as more people buy into it," he said.
The British Vehicle Rental and Leasing Association has calculated that it will cost between 2-4p per mile to run an electric car compared to 10-14p per mile for an equivalent petrol or diesel vehicle.
The ecar scheme is to be officially launched at the end of March.