Occupy Dame Street camp cleared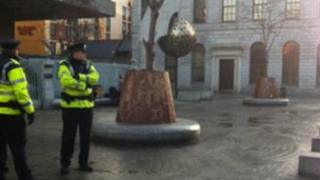 The Occupy Dame Street protest in Dublin has been cleared by Irish police.
Garda officers and Dublin City Council officials moved in on the camp at 03:30 GMT on Thursday to dismantle and remove a number of structures and tents.
However, the clearing of the camp was not entirely unexpected.
The protestors said they had been asked by Gardai on 28 February to remove the camp for the St Patrick's Festival on health and safety grounds
Cleaners have removed the last traces of the protest camp.
On Wednesday, the Republic's tourism minister, Leo Varadkar, said it was "regrettable" that those involved in the protest would not consider relocating for a few days during the St Patrick's Day celebrations.
"I think it's disappointing that they're not going to move the camp for a few days," he said.
"I understand they feel very strongly about their politics but I'm sure they don't want to damage the festival."
Protesters said the removal of the camp does not mean the end of the Occupy movement.
"I was on security when the Gardai raided the camp this morning," said Saoirse Bennet.
"We are not stopping any time soon, it's all hands on deck now, we are going to carry on."