Maghaberry protest poses problem for republicans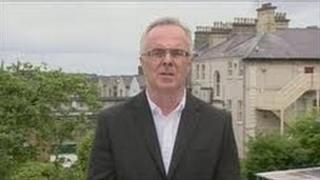 The protest at Maghaberry poses a problem for Sinn Fein.
Having campaigned for years on behalf of IRA prisoners during the Troubles, the party now finds itself talking to prisoners opposed to their political position, and determined to continue what they describe as the armed struggle.
Deputy First Minister Martin McGuinness labelled dissident republicans as "traitors" after the murder of PSNI officer Stephen Carroll, but Sinn Fein is supporting calls by prisoners belonging to those organisations for an end to strip searching.
A party delegation visited 27 prisoners taking part in a so-called dirty protest at Maghaberry on Wednesday.
They were led by former IRA hunger striker Raymond McCartney.
In the 1980s, he was part of an IRA protest demanding that republicans should be treated as special category, political prisoners, and not as criminals.
After the visit on Wednesday, he was asked if Sinn Fein regard the protesters at Maghaberry as political prisoners.
"There's absolutely no doubt that they are in prison as the result of a political legacy," he said.
"I think what they have to do... is they should embrace the political process and ensure they don't end up in prison. We feel that their presence in prison isn't necessary."
He was asked a second time, are they political prisoners?
"Absolutely, yes they are political prisoners," he said.
'Unlock lies'
The party endorses the prisoners' claim that the prison authorities reneged on an agreement brokered in August 2010 to end a policy of routine full body searches, replacing it with electronic scanners.
The prisoners claim the deal was that they would be searched using a BOSS chair - a Body Orifice Security Scanner.
Justice Minister David Ford said that agreement was for internal movement within the prison only, not when prisoners left and re-entered their wings for domestic and legal visits or trips to court.
"There is technology in place that should replace the need for a full body search and a strip search," said Mr McCartney.
"I think that's where the key to unlock all this lies and that is where David Ford should be focusing his attention.
"We have said to the minister and to the prisoners, in our opinion the arrangement made in August 2010, if implemented, will take these prisoners off the protest.
"There's an issue around full body searching, the way forward is to look at technological replacement."