Father saw gunmen shoot his son on Londonderry street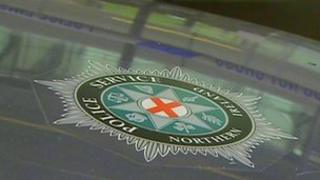 A father has described how his 20-year-old son was shot in front of him in a Londonderry street.
Kieran McFadden's son, also Kieran, was shot in the leg in the Bogside on Wednesday night. A cousin was shot in both legs.
The group Republican Action Against Drugs (RAAD) carried out the attack.
Mr McFadden said: "No son deserves this, it doesn't matter if you are republican or not, no son deserves this."
He said the shooting happened as the result of "a drunken brawl".
Mr McFadden said he went as a father to speak to everyone he could so that his son would not be shot.
He even took his son to meet the gunmen.
"At the back of my mind, I thought they were not going to do it. It was going to be a scare tactic but it backfired," he said.
He was forced to watch as his son was shot.
"Kieran said he had done nothing wrong. I am adamant he has done nothing wrong. Even if he did kick someone in the head, that doesn't justify this.
"They are scary, scary people. Where are the human rights for children?"
The gun attack happened at Gartan Square in the Bogside, Derry, at about 23:00 GMT on Wednesday.
The two men were taken to hospital. Their injuries are not thought to be life-threatening.
The shooting happened after a protest in the city against the activities of RAAD which has issued threats against four men in Derry.
Michael Doherty, from the Peace and Reconciliation group in the city, said people have to send a clear message to those carrying out these attacks.
"People do not have the right to take the law into their own hands and do not have the right to kill anybody," he said.
"We don't know who they are, but I am appealing to them: 'Stop what you're doing and give us a chance to build a city to a better future.'
"There are people out there who can help young people who may be involved in drugs.
"Let the authorities deal with this, not you. You are not the right people to do this because you bring gun law into the city."
SDLP MLA Pat Ramsey condemned the attack.
"There is no place in a civilised society for vigilante justice and the people of Derry have made that clear with repeated demonstrations against the likes of Republican Action Against Drugs," he said.
"I cannot stress enough how fed up the people of Derry are with attacks like these and we will be tireless in our campaign against the thugs who carried out last night's shootings."
Sinn Fein assembly member Raymond McCartney called on RAAD to disband.
"There is a lot of anger and frustration in communities across the city about the actions of this self-appointed group.
"Let's be very clear these shootings have absolutely nothing to do with drugs and those carrying them out are certainly not republicans, everything they do is anathema to republicans and besmirches a proud tradition."
Mr McCartney said the shootings were "about flexing muscles".
"It is about intimidating the youth in our communities. We now have a situation where mothers are being asked to bring their sons to locations to be shot by appointment," he said.
Mr McCartney said the community was being dragged by this group into "a cul de sac of despair".