Ferry and cargo vessel collide in Belfast Lough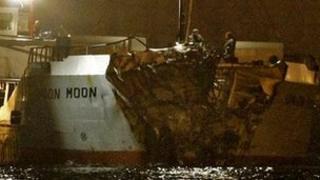 A passenger ferry and a cargo vessel have collided in Belfast Lough.
It happened close to the Fairway buoy about a mile and a half from shore between Carrickfergus and Helen's Bay around 19:45 GMT on Wednesday.
There are no reports of any injuries.
It is understood the Stena ferry has now docked at the Stena terminal. The other vessel - a cargo ship, the Union Moon - was accompanied by the coastguard as it was brought back to Belfast.
The ferry was on its way from Birkenhead, Merseyside, to Belfast when the collision happened.
One female passenger who was on the ferry said she was just sitting in her cabin when she heard a "massive bang".
"Then all the sirens went and we went downstairs and we were all issued with life jackets and told to prepare to get off in the raft," she said.
"I was scared, but the staff were great, very good. They put us all at ease."
Cahill Loughran was also on board with his wife and four children.
"They said we might have to get into lifeboats, they weren't sure what the damage was, and then the captain came on and said the damage was above the waterline," he said.
"There was a hole, but it was above the waterline."
Alan Couser, operations manager at Donaghadee lifeboat, said they were able to respond quickly.
"Donaghadee lifeboat was actually out on exercise when the incident happened and both it and Bangor lifeboat were requested to attend the incident," he said.
'Damage'
"I believe one of the vessels was the ferry coming from Birkenhead to Belfast. It is now back in Belfast.
"The other was a cargo vessel called the Union Moon and it has suffered some damage.
"I believe there is a pilot onboard assessing the damage. They control everything to do with the safety and the actual operation of shipping in the harbour.
"There's some frontal damage to the ship. The bow has been damaged but I'm not quite sure how badly."
Mr Couser said both lifeboats and a tug were standing by.
He said he had "no idea" what had caused the collision.
"Until a report is given, we probably won't know for quite some time," he added.