Is Stormont's difficulty Scotland's opportunity?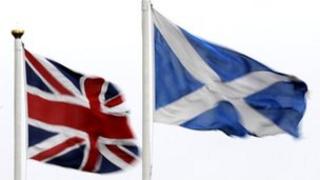 Sammy Wilson says Scotland wasn't mentioned during Wednesday's talks on corporation tax between Stormont and Treasury ministers.
But the finance minister acknowledged that the SNP's aspiration for independence, or failing that, control over local taxation powers, is a political factor as the UK government considers the issue.
Last summer, Peter Robinson warned Alex Salmond that taking control of corporation tax would not be a free lunch. It could cost Scotland, he guessed, between £1bn and £1.5bn.
The message appeared to be - "back off, let Northern Ireland push its case first, don't spoil it for all of us".
But events in Edinburgh have run more quickly, and even if Mr Salmond had adapted a sotto voce approach, it's hard to imagine the prime minister and the chancellor making a move on Northern Ireland's corporation tax without mulling over the potential repercussions for the debate over Scottish independence and the talk of fiscal autonomy, be it "devo max" or "devo plus".
Owen Paterson insists that the Northern Ireland case will be judged on its merits, and that ministers remain on track for a decision this summer. He says Stormont - where there's cross party agreement on corporation tax - is a very different case to Holyrood.
But by the summer, when Alex Salmond should have his "independence roadshows" up and running, how sensitive will any decision be?
The treasury doesn't necessarily have to give a thumbs-up or thumbs-down to the devolution of corporation tax. Instead they could simply set a price so high that Stormont ministers find it politically unacceptable.
Last week, during a Westminster Hall debate, Sammy Wilson quoted a potential £500m annual cost to the block grant. That's a dramatic increase on some of the original estimates of the price, which were nearer £300m.
On Wednesday, the finance minister wouldn't confirm whether £500m is the price tag currently under discussion, insisting that he wouldn't reveal Stormont's bottom line.
Owen Paterson may be right, and treasury ministers are able to separate out the merits of Northern Ireland's case from the implications for Scotland. But its hard to imagine that the officials charged with drawing up the financial parameters for Northern Ireland companies won't know in the back of their minds that whatever calculation they make will be cited as a precedent by those who, if they cannot achieve independence, most definitely want to secure "devo max".