Fewer elderly using Meals on Wheels service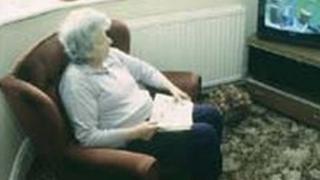 The number of elderly and vulnerable people having a meal delivered to their home has dropped dramatically with a 76% decrease in one health trust area.
The overall figure using the service has fallen by 36% to just over 4,000.
Stormont's Health Committee said it wanted to know why fewer people were using the service.
Despite health trusts being told by the Department of Health they must charge £1.50 per meal, it has emerged that cost varies from one area to another.
In these stringent times all of the health trusts must save money, but some are prepared to save more money than others - by not subsidising their meals quite as much.
In the South Eastern Trust in areas such as Dundonald, the average cost of a two-course meal is £2
In Ballymoney in the Northern Trust area, that cost increases to around £4.76.
Meanwhile, in Enniskillen in the Western Health Trust area, the cost rises again to £4.80
The criteria used by each of the health trusts to determine who is entitled to the service also appear to differ.
While in Belfast there has been a small increase, in the Southern Trust area figures have dramatically fallen by around 77%.
The chair of Stormont's Health Committee Sue Ramsey said a person's address "must not determine whether or not he or she gets fed".
Health care here is under major review with greater emphasis on providing more care in the community.
According to the recently-published Compton Review, in the future there will be fewer, if any, residential homes for the elderly.
Some people believe that will place even an greater demand on the meals on wheels service.
According to some of the health trusts which appeared before the committee, fewer people may be availing of the service due to alternatives such as ready meals in supermarkets or an increase in the number of older people being supported by their families.