Antrim memorial service held for murdered Massereene soldiers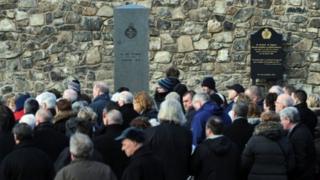 A cross-community memorial service has been held in Antrim for the two soldiers killed at Massereene barracks three years ago.
Patrick Azimkar and Mark Quinsey were shot dead and six others injured in the gun attack carried out by the Real IRA.
Their families were in All Saints Church in Antrim for the service on Wednesday.
After the service a memorial stone was dedicated in their memory at the war memorial in the town centre.
Mark Quincey's sister, Jamie, and Patrick Azimkar's mother, Geraldine, spoke of the kindness of the people of Antrim and thanked them for their love and support.
The soldiers were the first to be murdered in Northern Ireland since Lance Bombardier Stephen Restorick was killed by an IRA sniper in 1997.
They were shot dead by the Real IRA as they collected pizza from the front of Massereene Barracks on 7 March 2009.
They had been due to deploy to Afghanistan hours after they were murdered.
In January 46-year-old Brian Shivers from Magherafelt was convicted of the murders. His co-accused Colin Duffy, 44, from Lurgan was acquitted.