Slane bypass planning permission refused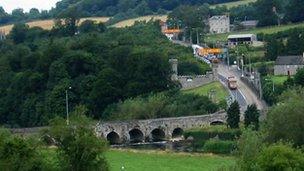 The Irish planning authority, An Bord Pleanala, has confirmed it has refused permission for the proposed Slane bypass in County Meath.
The agency said the planned bridge and roads around the village were located too close to the World Heritage Site at Bru na Bonne.
The decision has angered local residents.
The Bypass Slane Campaign said it was "shocked and dismayed" by the decision.
The group was formed in April 2009 after a serious road traffic incident in the village.
Planners also said they believed that it had not been proven that no alternative route was available.
Board members were also concerned that the bypass may divert traffic off the M1 tolled motorway.
The Bypass Slane Campaign said the village was "overwhelmed by the dangerous volumes of traffic and by the constant threat to life it brings".
''We now feel that as we have exhausted every avenue open to us that we are now entirely helpless," said a statement.
''The decades of inaction and failure to deal decisively with this appalling situation are nothing short of a national scandal.''
Meanwhile, the Save Newgrange group has welcomed Wednesday's announcement and has called for the immediate implementation of a HGV ban of the village.
Campaign spokesperson Vincent Salafia said: "This is a huge victory for heritage and sustainable development in Ireland.
"The Unesco World Heritage Site is our most popular tourist attraction, which will play a key role in our economic recovery, and it deserves the highest level of legal protection.
"We urge the authorities to immediately implement a HGV ban in the village, in order to protect drivers, villagers and the heritage value of the village."