Union concerned over school statistics publication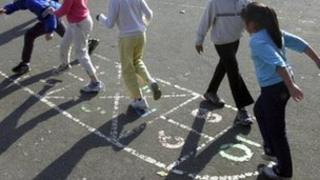 A leading teaching union has questioned the publication of a viability audit on every school in Northern Ireland.
It showed 84% of secondary schools in NI and nearly 50% of primary schools were experiencing difficulties.
Three areas were examined by the Department of Education - quality of education, the numbers who attend, and the school's finances.
The National Association of Head Teachers (NAHT) said the statistics could be misinterpreted.
The figures were released on Tuesday and have been published on the websites of the five Education and Library Boards.
Raymond McFeeters from NAHT said the timing of the publication could have been better.
"My fear is that in publishing this information and in showing the schools that are under stress and highlighting them in red, is that parents may misinterpret this and think that a school is going to close when it's not going to close and maybe react with voting with their feet," he said.
Mr McFeeters said the Department of Education needed to look at creative ways of saving money to prevent mass school closures.
"This audit is only the first piece of what is going to be a very complicated jigsaw," he said.
"After the audit we're moving in to area planning where we look at the education for all of the children in specific areas.
"Other things will have to be taken into consideration - the viability of the accommodation.
"You could have a school with what are perceived to be low standards, maybe dropping enrolment, but in very good accommodation so that has to be taken into consideration.
"We're asking the department to look at creative ways of protecting particularly small rural schools through things like federations where boards of governors are shared, where administration costs could be shared.
"Schools are employers not just of teachers but of lots of other people, secretarial, admin and kitchen staff."
Complex matter
The figures were compiled to examine if children were getting a good education and to establish which schools are financially viable.
In the primary sector, just under half of all schools are currently experiencing difficulties in at least one category.
In secondary schools the figure is much higher at 84%. In the grammar sector the figure is 35%.
When he launched the audit last year, Education Minister John O'Dowd said some schools may have to close.
Mr O'Dowd said there were too many empty places - up to 85,000. He told the assembly this equated to more than 150 empty schools.
On Tuesday, he said this was a "complex matter and the viability audits only present part of the picture".
The minister said his department's Sustainable Schools policy recognised that every school had its own unique set of circumstances which needed careful consideration before the area plans were finalised.
"But we cannot ignore instances where the pupils are not accessing high quality education and this is why in some cases we need to take swift action," Mr O'Dowd said.