Man dies in Ballymoney house fire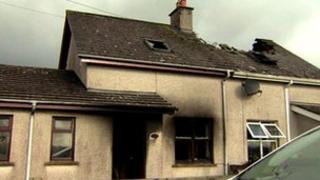 A man, believed to be in his 60s, has died in a house fire in County Antrim.
It happened at his home on the Bush Road between Ballymoney and Dervock at about 21:00 GMT on Tuesday.
The fire was discovered by a neighbour who woke when his own home began to fill with smoke.
The neighbour said he tried to save the vicitim, but the fire was too intense and the windows were smashing from the heat.
The Fire and Rescue Service has returned to the scene to begin an investigation into the cause of the fire, but said earlier it did not believe there were any suspicious circumstances.
Group Commander Bill Willsdon said crews from Ballymoney and Coleraine responded to the fire.
"Crews responded from Ballymoney and Coleraine fire stations," he said.
"On arrival the crews were met with a well developed fire in the house with smoke coming from the front windows.
"Some attempt had been made by local neighbours to get into the house, but they were beaten back by the extent of the fire.
"The crews went in with breathing apparatus and hoses they managed to extinguish the fire and discovered the gentleman inside."