Hygiene failings before pseudomonas outbreak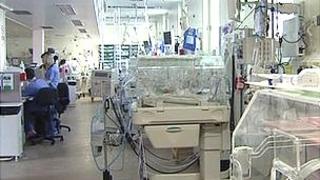 The Department of Health has offered to brief the chair of the health committee on reports of hygiene failings at the Royal before the pseudomonas outbreak.
But the department will not meet with the entire health committee until the independent review of the outbreak at the Royal's neo-natal ward is complete.
The chair of Stormont's health committee had wanted more details on why problems in the Royal's neo-natal ward were not dealt with sooner.
Sue Ramsey said it was "unacceptable".
She said that all members of the health committee need to perform a "scrutiny role".
In a statement, the department said it did not want to risk compromising the inquiry into the pseudomonas outbreak.
"We would not wish to risk inadvertently undermining or compromising the independent review as established by the minister, and its primacy in considering all of the circumstances of the outbreak," said a spokesman.
"We trust that this position is accepted by the chair and deputy chair and other members of the health committee. In keeping with proper process, the minister, chief medical officer and senior officials recently briefed the committee in full on this matter."
Ms Ramsey said : "I had requested an urgent meeting with health officials on why hygiene failings identified in the Royal's neo-natal unit months before the pseudomonas outbreak were not dealt with sooner.
"I had assumed that all members of the health committee would be welcome to attend that meeting given that this is a matter of significant public interest.
"However, the department were seeking to put restrictions on who could attend the meeting. That was unacceptable to me. Committee members need to have access to this information to undertake their scrutiny role."
A review panel from the Regulation and Quality Improvement Authority is currently investigating the deaths of four babies who had contracted the pseudomonas infection.
As well as the three babies who died in the Royal, another new-born died in Londonderry's Altnagelvin Hospital in December.
All 175 taps in Northern Ireland's neo-natal units are being replaced, with priority being given to taps where contamination had been detected.
Neo-natal wards also conducted deep cleans and intensive checks for the bacteria that can be found in water supply units.
Only sterile water is being used for the direct care of patients.