Constable Stephen Carroll murder trial finishes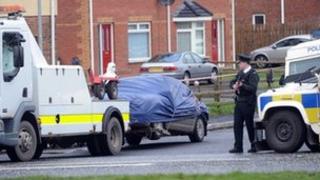 The Constable Stephen Carroll murder trial has ended.
Both men charged with the killing in Craigavon three years ago chose not to take the stand to give their account of what happened that night.
Brendan McConville, 40, of Glenholme Avenue, Craigavon and John Paul Wootton, 20, of Collindale, Lurgan, deny murder.
Constable Carroll was shot dead in Craigavon in March 2009. A verdict is expected in a few weeks.
The prosecution claimed the defendants' failure to give an innocent explanation is evidence of their guilt.
However, the defence lawyers claim both have robustly argued their innocence through their legal teams in the court.
The judge in the trial rejected a defence application to throw out the prosecution case on Monday.
As the trial closed he thanked the legal teams for their professionalism in dealing with the case.