BBC reporter Mark Simpson learns of Titanic relative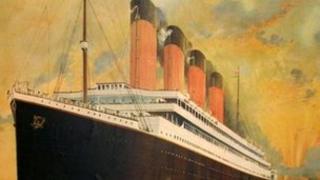 After reporting on stories about the Titanic for 20 years, I have only just discovered one of my ancestors died on board the ill-fated ship.
It started with a phone call on a wet Wednesday and a strange voice telling me I was related to Dr John Simpson, one of the 1,517 people killed when the Titanic sank.
Even though my father is called John Simpson, and the caller sounded genuine, I refused to believe it.
"That's rubbish, I'm afraid," I said.
"I've been reading about, and reporting on, the Titanic for 20 years. If I had a family connection to the ship, I would have discovered it by now.
"What's more, if my father was related to Dr John Simpson, he would have told me by now."
The caller was David Young, a senior reporter from the Press Association in Belfast.
In spite of being so bullish on the phone, I later decided to check out the story with my father, just in case.
"Oh yes, that is true," he told me.
"What? Why didn't you tell me?" I responded.
"You never asked," he replied.
He blames me; I blame him. The rest is history.
It turns out that Dr Simpson was my great-grandfather's cousin. He was the assistant surgeon on board the Titanic.
Letter
According to eyewitnesses who survived the 1912 disaster, he stood with fellow officers on the deck of the stricken vessel as it went down, resigning himself to his fate, making no attempt to board the lifeboats and instead calmly helping others to safety.
He was only 37 years of age. During the fateful voyage, he wrote a letter home to his mother in Belfast.
She kept it as a precious last memory of him.
In it, he said he was tired but settling into his cabin well.
The surgeon, who treated second and third class passengers, signed off: "With fondest love, John."
The letter, written on notepaper headed RMS Titanic, was brought ashore at Cobh, County Cork - then called Queenstown - before the ship set sail for America.
It was dispatched to his mother Elizabeth living on Belfast's Dublin Road.
The letter was passed down through several generations in the family, but 15 years ago it was given away to a Titanic enthusiast.
There was no trace of it until it recently turned up on an auction list in New York.
It was supposed to be sold last week for up to $50,000 (£31,500) but there was no buyer. There are hopes that whoever eventually buys it will bring it back to Belfast and put it on public display.
If so, I look forward to going to see it one day.
I might even bring my father ... if I remember to tell him.