Neo-natal hygiene failings will be raised - Sue Ramsey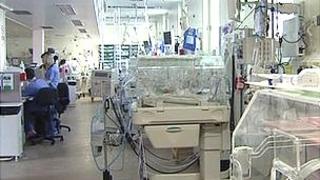 A Sinn Fein MLA has said she will ask health officials why hygiene failings identified in the Royal's neo-natal unit months before the pseudomonas outbreak were not dealt with sooner.
Three babies died from the infection at the Royal Jubilee maternity in January.
Audit reports, seen by the BBC, indicate sinks, medical equipment and hand dispensers on the Belfast site failed inspections last August.
Sue Ramsey is due to meet the Department of Health on Wednesday.
Ms Ramsey, who is chair of the assembly's health committee, said: "My concern is that if somebody is raising an issue one month, I assume and I would expect, that the issue would be dealt with the following month when there's another inspection.
"But reading these reports - and there is a substantial amount of documentation - it doesn't seem to me that the things were fixed and fixed as quickly as possible."
In a statement, the Belfast Health Trust said, as the pseudomonas outbreak is currently being investigated it cannot discuss the issues until the outcome of the enquiry.
A review panel from the Regulation and Quality Improvement Authority (RQIA) is currently investigating the deaths of four babies who had contracted the pseudomonas infection.
As well as the three babies who died in the Royal, another new-born died in Londonderry's Altnagelvin Hospital in December.
All 175 taps in Northern Ireland's neo-natal units are being replaced, with priority being given to taps where contamination had been detected.
Neo-natal wards also conducted deep cleans and intensive checks for the bacteria that can be found in water supply units.
Only sterile water is being used for the direct care of patients.