Smithwick Tribunal: Pat Byrne says suspect not tipped off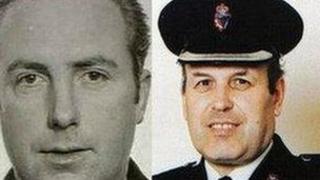 A former Garda commissioner has disputed evidence given to a tribunal that a high value republican suspect was tipped-off ahead of a police raid.
The Smithwick Tribunal is investigating allegations of Garda/IRA collusion in the murders of two senior RUC officers in an ambush in south Armagh.
Ch Supt Harry Breen and Supt Bob Buchanan were shot dead in March 1989.
Pat Byrne was questioned about a phone intercept heard by a former inspector at Dundalk garda station, Dan Prenty.
Inspector Prenty said a tape of the intercept was played to him in Garda HQ in Dublin, in which he heard the suspect being told to "get rid of the package".
Mr Byrne disputed that the intercept ever existed and said Mr Prenty must have been mistaken.
Tribunal chairman Peter Smithwick asked the former commissioner if he thought the former inspector had imagined it. Mr Byrne replied that there was no tape because it did not exist.
It emerged during the exchange that there is no tape or transcript of the telephone intercept in Garda files.
Mr Byrne said had such an intercept existed, there would have been an immediate major investigation.
"We would have locked down Garda HQ... to suggest this particular suspect was tipped off would have had serious, serious repercussions," he said.
He acknowledged that the Garda had intercepted the phone of this suspect, who was of interest to policing and security organisations not just in Ireland, but in the UK and across Europe.