Gerry McGeough is denied attempted murder pardon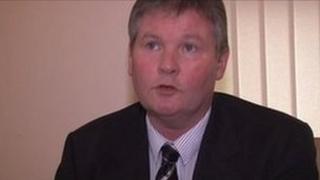 A High Court judge has ruled that a former IRA man should not be pardoned for an attempted murder 30 years ago.
Lawyers for Gerry McGeough claimed he was being treated differently to other so-called political prisoners because he was no longer a member of Sinn Fein.
McGeough, 53, from Dungannon, County Tyrone, is serving a 20-year sentence imposed last year for shooting off-duty UDR soldier Samuel Brush.
On Friday, Mr Justice Treacy said the arguments were "untenable".
McGeough's lawyers argued that the Royal Prerogative of Mercy should be granted to ensure equal treatment with other convicted terrorists who benefited from it.
Mr Brush was attacked in June 1981.
He was working as a postman at the time. He was making a delivery near Aughnacloy when he was attacked.
McGeough was convicted of his attempted murder, possession of a firearm and ammunition, and IRA membership.
Under the terms of the Good Friday Agreement he is expected to serve only two years of his sentence and is still due for release in April next year.
Mr Brush, now a DUP councillor in Dungannon, attended court to hear submissions on behalf of the man convicted of trying to kill him.
Afterwards, he said: "Most people will find it ironic, and even laughable, that a dedicated Irish republican as Mr McGeough claims to be, should go pleading for the Royal Prerogative of Mercy from her Majesty the Queen."
Mr Brush also pointed to the length of time McGeough will spend behind bars for the attempt on his life.
"He hasn't shown any remorse to me or my family," he said.
"I will carry my injuries to the grave, there's still shrapnel in my chest.
"While he's serving a two-year sentence and whinging and whining I have to get on with my life. It's more than two years for me, it's a life sentence."
Sinn Fein MP Michelle Gildernew said her party would continue to fight for McGeough's release.
"Since his imprisonment we have consistently raised his arrest with both the British and Irish governments alongside meeting Mr McGeogh to offer our support while he is imprisoned," she said.
"We will continue to raise this issue at all levels."