Constable Stephen Carroll murder trial 'should continue'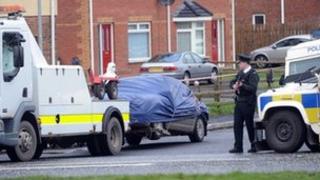 Prosecution lawyers in the Constable Stephen Carroll murder trial have argued that the case should continue.
They were responding to calls from the defence team that the trial should be stopped on the grounds that the evidence was weak and inconclusive
Constable Carroll was shot dead in Craigavon in March 2009 after responding to a 999 call.
Brendan McConville, of Glenholme Avenue, Craigavon and John Paul Wootton of Collindale, Lurgan, deny the murder.
The prosecution argues there is a strong case against both men.
They said a witness sighting of 40-year-old Mr McConville at the scene along with DNA and gunshot residue on a jacket they allege is his, represented a clear case against him.
They said McConville was closely linked to the co-accused Mr Wootton and that the pair planned and participated in the murder together.
Mr Wootton, who is 20, was driving the alleged getaway car, the prosecution said.
The defence teams will respond to some of the claims later and the judge is expected to say on Monday whether or not he is to abort the trial.