Funeral of Lagan victim Joby Murphy is held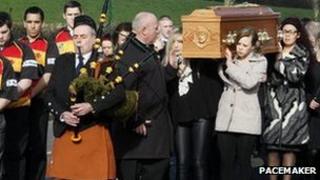 The funeral has taken place in north Belfast of Joby Murphy, the 20-year-old who drowned in the River Lagan after a night out.
Joby had been missing after attending a Snow Patrol concert in the Odyssey Arena on 25 January.
After the concert he went to a club with a drinks promotion on and is believed to have fallen into the river from a footbridge at Lagan Weir.
A search team from Cork helped to find his body last Saturday morning.
It is understood they used sonar equipment to locate it.
As well as official searches, Joby's family also conducted their own in the weeks after he went missing.
His father Joe also campaigned against cheap drink promotions.
On Thursday, a service was held at Holy Family Church in north Belfast for the 20-year-old.