Fourth-quarter earnings at Bombardier Inc fall by 27%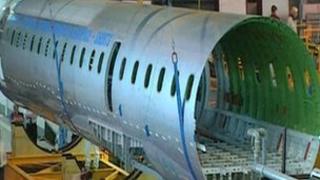 Fourth-quarter earnings at Bombardier Inc, the Montreal-based parent company of the Belfast plane makers, fell 27% due to a combination of lower aircraft deliveries due to a shorter reporting period.
For the quarter, aircraft deliveries totalled 60, down from 100 in the year-earlier period. The 60 deliveries included 48 business aircraft, 11 commercial aircraft and 1 amphibious aircraft.
At Bombardier Aerospace, revenues totalled $8.6bn, compared to $8.8bn in the last fiscal year.
Bombardier's Belfast operation is responsible for the design and manufacture of advanced composite wings for all-new CSeries aircraft. The company has a core workforce of 5,000 in Northern Ireland.
Pierre Beaudoin, president and chief executive officer, Bombardier said: "In Aerospace, we navigated through another demanding year with skill and efficiency.
"We maintained our profitability, increased our level of net orders, grew our backlog, further enhanced our industry leadership in business jets, and continued to invest in many new programs while addressing the challenges in our regional aircraft business.
"We strengthened our CSeries's customer diversity by signing up five new operators which brought our total orders, letters of intent and options to over 300 CSeries aircraft. The current level of firm orders represents the first two and a half years of production."
Subsequent to the fiscal year ended 31 December 2011 Bombardier Aerospace received a firm order for five CS100 airliners and options for an additional five CS100 aircraft from PrivatAir.