David McNarry will not attend UUP disciplinary hearing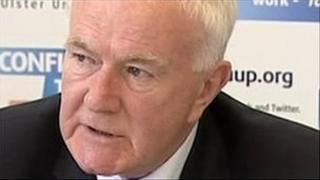 The former Ulster Unionist MLA David McNarry has declined to attend a party disciplinary hearing on Friday.
Mr McNarry has told his party in writing that he has a prior commitment.
He resigned the Stormont whip when the party leader Tom Elliot demoted him from the deputy chair of the Education Committee over an interview he gave to the Belfast Telegraph.
Mr McNarry resigned from the party's assembly group in January. However, he remains a party member.