Crossing the Atlantic to study in Northern Ireland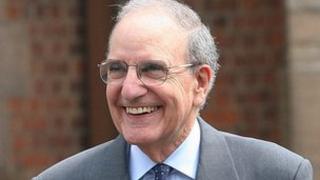 They are the cream of their generation and they compete to study in Northern Ireland universities.
They are the Mitchell Scholars, named in honour of the US Senator who helped forge the Good Friday Agreement.
And, for just over a decade they have crossed the Atlantic. Their mission: to learn, and then lead.
Every year, around a dozen make it into the programme, described by some as Ireland's answer to the Rhodes Scholarship.
It was set up by the US-Ireland Alliance which is focused on strengthing ties between the island of Ireland and the US and in fostering future leaders.
"The Alliance doesn't do leprechauns and green beer," says its website.
The class of 2012 includes graduates from Princeton and Yale and a number of Mitchell scholars are studying in Belfast.
Among them, Boston native Anise Vance, a 23-year-old Dartmouth College graduate who is at Queen's University studying a masters in Human Geography.
He hopes to earn a PhD when he returns home and to work in conflict resolution.
He said Northern Ireland's focus on sharing space is something that US communities can learn from.
"In the United States, it's almost as if we don't have that consciousness anymore when it comes to identities. There's no talk about creating a shared space for communities of race," he said.
"There's no talk about creating a shared space for communities that maybe are divided by other barriers. So I think that consciousness is really something that needs to be drawn on and used in the US."
Derick Stace-Naughton is studying for a masters in Health Communication at the University of Ulster.
Aged 22, he comes from Madison, Wisconsin and is a graduate of Georgetown University. He relishes the opportunity to learn from our healthcare system.
"I'm very interested in healthcare policy. Obviously America is going through major changes in our healthcare system right now. I think we have a lot to learn from the NHS."
The Mitchell name opens doors on both sides of the Atlantic and the class of 2012 - who are studying in universities across the island including Galway and Trinity - met in Belfast recently.
They travelled to Stormont to meet the first and deputy first ministers.
"The thing that really struck me," says Anise, "was that they almost seem to be buddy-buddy... It seemed that they had a genuinely good working relationship, (that) is somewhat of a miracle."
Derick recalls an interesting dynamic as Peter Robinson and Martin McGuinness answered a range of questions in which they "usually agreed".
Asked what they disagreed about, he said: "They had different takes on environmentalism in Northern Ireland and the tension that often exists between new construction, job creation projects versus environmental impact."
So what would the smiling senator from Maine who dreamed of normalising our politics make of that? Mission accomplished, perhaps.