Ulster Hospital apologises for 'unacceptable waits'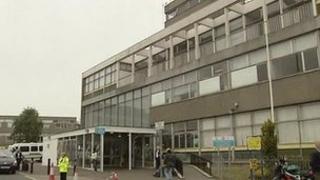 The trust that runs the Ulster Hospital has apologised over "unacceptable waits" for patients at its accident and emergency department.
The South Eastern Trust's director of services told the Nolan Show there was always extra demand during winter months.
But Seamus McGoran said factors, such as the closure of the City Hospital's A&E, had put them under added pressure.
Forty extra beds have been opened but the hospital is still struggling.
Mr McGoran revealed there had been a 15% increase in the number of patients needing a bed.
The trust said services at the Ulster were under "unprecedented pressures" during the last few weeks.
Mr McGoran admitted it had been a very difficult time at the Ulster.
"In a bad winter we might have 4 or 5% of an increase but this has been a 15% increase against the same period last year," he said.
"That means about an extra 80 beds demand on our services.
"We have to make some very uncomfortable and unsatisfactory decisions, for example around placing patients in a corridor bed."