14 years after deal NI 'still very divided' new report suggests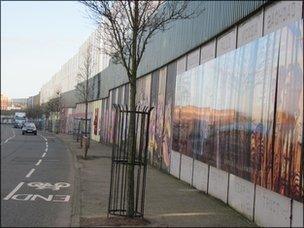 Fourteen years after the Good Friday Agreement, Northern Ireland remains "a very divided society," a new report suggests.
Peace walls have increased from 22 when the agreement was signed, to a current total of 48 walls, according to theNI Peace Monitoring Report.
The policing deal is not secure with a greater drop-out rate for Catholic officers, it says.
The report stresses that the assembly is running and violence is down.
However, against that, paramilitarism remains an active threat and Northern Ireland society is still very divided in terms of schools and housing, it says.
The report, published by the Community Relations Council, said no solution for dealing with Northern Ireland's troubled past had been found.
"The opportunity for reasoned discussion about how the past should be handled was lost in the furore surrounding the 2009 report of the Consultative Group on the past, largely because of a clause which suggested a one-off payment to all families who had lost someone in the Troubles regardless of whether that person was seen as a victim or a perpetrator," the report concludes.
"This issue, more than any other, continues to confound the sense that Northern Ireland has left the Troubles behind."
Dr Paul Nolan, the report's author, said violence had declined but had not gone away.
"There is increased cooperation at the political level but there is also an increase in the number of interface barriers.
"We have seen interesting experiments in shared housing and shared education but 92.5% of school enrolments are still in schools that are perceived to be for one community only and 90% of social housing is for single identity communities," he said.
"At times, Northern Ireland seems to be moving forward; at other times it seems in danger of lurching back into the past."
Dr Nolan asked whether this period of peace might turn out to be "only a generational truce".
The Northern Ireland Peace Monitoring Report, independently funded and supported by the Joseph Rowntree Charitable Trust and theJoseph RowntreeFoundation, has been published by the Community Relations Council .
Related Internet Links
The BBC is not responsible for the content of external sites.