London 2012: Five towns to host Paralympic flame events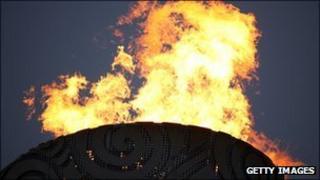 Five towns in Northern Ireland will host "flame celebration events" at which the Paralympic torch will be used to light flames in each of the locations.
A flame will be lit in the greater Belfast area on 25 August 2012 and also in Cookstown, Ballymena, Londonderry, Newry and Mourne and Carrickfergus.
It is part of the five-day relay of capital cities across the UK.
It will arrive inLondonon 29 August for the opening ceremony of the games.
Northern Ireland Sports Minister, Caral Ni Chuilin, has urged the public to support theParalympic torch relaywhen it arrives in Northern Ireland.
Dame Mary Peters, who won a gold medal at the 1972 Olympics, also urged the Northern Ireland public to support the Paralympic athletes during the event.
Once a flame has been lit, it will be taken to local community groups and key locations "in and around" each city.
A total of 580 torchbearers working in teams of five will carry the Paralympic Flame which will light the cauldron at the opening ceremony of the London 2012 Games.