£18.5m Giant's Causeway centre hopes to cash in on Irish Golf Open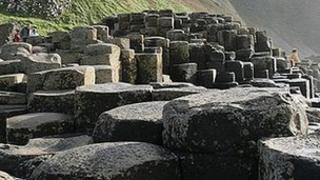 The National Trust is hoping to open its £18.5m Giant's Causeway visitors' centre early to cash in on the wave of tourists for the Irish Golf Open.
Work began on the Causeway centre at the start of last year and its official opening date is Monday 2 July.
But the Irish Open - which is to be staged at the nearby Royal Portrush Golf Club - ends the day before.
It is the first time in 65 years that the week-long golf tournament is being held in Northern Ireland.
A record number of visitors are expected on the north coast that week.
In response, the National Trust is hoping to move the official opening of the Causeway centre forward to facilitate the spectators attending the tournament.
"We are still on target to open the new visitor facilities at the Giant's Causeway on 2 July 2012," the trust said in a statement.
"The National Trust is working closely with the design team, contractors, funders and other stakeholders to pull out the stops and bring this date forward to coincide with the Irish Open at Portrush."