Family's plea over missing Bangor woman Lisa Dorrian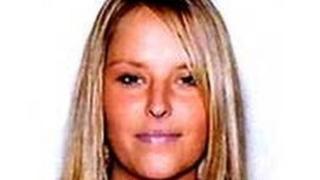 The family of Bangor woman Lisa Dorrian have made an appeal to the public to help them find her on the seventh anniversary of her disappearance.
The 25-year-old was last seen at a party at a Ballyhalbert caravan site in County Down.
Despite extensive land and sea searches, her body has never been found.
Police have made several arrests but no-one has been charged with her murder.
On Tuesday, Joanne Dorrian, said the family was grateful that the police investigation was still active, but that they were unable to move on as her sister's body had not been found.
"It is very difficult, it is hard to believe it is seven years on, it only feels like yesterday that this all began," she said.
"The one thing we want is to have Lisa back and we haven't got that so we are no further on."
The Dorrian family have tried a number of initiatives since she went missing, including linking up with Snow Patrol singer Gary Lightbody and releasing a short film at cinemas.
A £10,000 reward was also offered for information leading to the recovery of her body.
Joanne said they had received a number of confidential messages.
However, the quest for the conclusive piece of information continues.
She said: "That person who could help us has not come forward yet, they just haven't contacted us with the information that we need.
"It was a high-profile campaign at the time and the support we received from people all over the world and Northern Ireland was very humbling.
"I would ask people if they have heard anything, it may have been a rumour, they may have overheard a conversation, no information is too insignificant.
"We are not asking for who did it, we are just asking for a location, the location of where my sister is so that we can give her a proper Christian burial.
"Please come forward, it is never too late to tell us what you have heard, anything at all, just to try and help us find Lisa."
Babies
Joanne also highlighted the impact of Lisa's disappearance on the Dorrian family.
"We have a younger sister who is 15 who has not been able to go to school today because she has been up all night crying for her sister," she added. "We have a younger nephew who is 11.
"They have memories of Lisa as a young girl and they can't accept that she is gone and we can't accept it.
"There are babies in the family who will never meet Lisa."
She said that the family had accepted that Lisa would not be found alive, but that it needed closure.
"There is going to be no anger, there is going to be no repercussions, now is the time to do the right thing," she added.
"We are not finding her alive, the hope is we are able to lay her to rest.
"In the greater scheme of things, it is not a great hope to have, but it is the only hope we have."