Lord Morrow's Dungannon office ransacked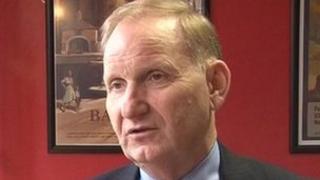 The Dungannon offices of the DUP's Maurice Morrow have been broken into and ransacked.
The rear window of the building was smashed and extensive damage caused in the early hours of Tuesday morning.
Several items, including a television, were stolen and the kitchen was flooded, causing water damage.
Police have confirmed they are investigating a burglary at office premises on Church Street on Tuesday morning.
No arrests have been made in connection with the break-in.
Lord Morrow, the DUP MLA for Fermanagh and South Tyrone, described the damage: "They rampaged through files, they scatters them all over the place, they removed equipment from the office, it's gone.
"They also then went into the kitchen area. It was flooded in eight to 10 inches of water.
"Pipes were ripped from the plumbing. It was a total mess, there's no doubt about that."