Ian Paisley home from hospital after heart problems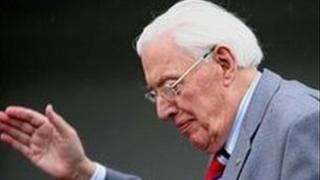 The former Northern Ireland first minister Ian Paisley has been discharged from hospital after treatment for a heart condition.
Lord Bannside was admitted to the Ulster Hospital on 5 February and spent almost two weeks in intensive care.
His wife, Baroness Paisley, said her husband was now home and doing well.
In a statement she also thanked the staff who treated Lord Bannside at the Ulster Hospital.
"My family and I are delighted that my husband has been able to return home," she said.
"It is not possible to put into words the depth of our gratitude to those responsible who cared for him these past three weeks, nor can we express sufficiently our thanks to all those who have sent their good wishes and prayers.
"We thank the media for giving us privacy during his time in hospital, and ask that he continues to have time and space to fully recuperate."
Current First Minister Peter Robinson said: "Everyone in the DUP is delighted to learn of Ian's progress.
"The news that he has left hospital and is to continue his recovery at home is an answer to many prayers right across the province and indeed beyond Ulster's shores."
Lord Bannside, who is 85, stood down as first minister in 2008 and ended 60 years of full-time ministry in January.