Rates help call for residents of NI's 'ghost estates'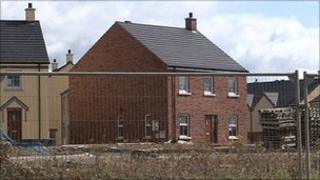 MP for South Down Margaret Ritchie has called for a rates exemption for people forced to live on "ghost estates".
New, half finished developments are a lasting legacy of the crash in the Irish property market.
The majority were started by developers who could not afford to finish them when prices plummeted.
Ms Ritchie has appealed to the finance minister to show mercy to those living without the proper standards of sewage facilities, lighting or footpaths.
In Northern Ireland, it is thought that up to 5,000 homes remain unfinished.
Ms Ritchie said: "I have been inundated with representations from constituents who reside in unfinished private housing estates where the roads, water and sewage facilities, footpaths and street lighting provision have not been brought up to an adoptable standard," she said.
"The Department of Finance and Personnel is still demanding full rates from each of the occupants in these private residential estates.
"This is unjustified in the current economic circumstances where those residents do not possess the full facilities."
Ms Ritchie said she had already made representations to the finance minister but was told that rates are a property tax and not for additional services.
"This is an unacceptable situation and the minister must demonstrate a level of mercy in these cases and ensure that exemptions are provided for residents in these estates where the infrastructure has not been brought up to an adoptable standard," she said.
In a statement, the Department of Finance and Personnel said that there was no specific policy for "ghost estates".
"As a result of applications and appeals from ratepayers in some developments of this nature, a number of properties have received reductions from LPS in their rateable valuations to reflect the difficult local circumstances," the statement said.
"Ratepayers should make Land & Property Services aware of any significant long-term issues that may warrant a reduction in the rateable capital value and therefore rate liability. Any applications for a reduction in valuation received by the district valuer will be considered. "